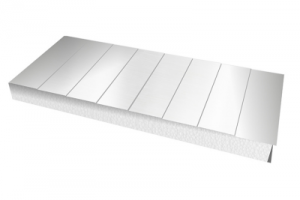 A structurally insulated roof panel is a panel composed of two layers of metal or another rigid material sandwiching a thick layer of rigid insulation. Structural insulated roof panels serve a variety of functions simultaneously and eliminate the need for having several different trades involved in your building project. Simplicity aside people still make mistakes when purchasing structurally insulated roof panels (SIRP) and in this post we'll look at a few of those mistakes.
Structurally Insulated Roof Panels Canada: The Devil's in the Details
Here are 5 of the most common mistakes people make when buying structurally insulated roof panels in Canada for their home or business.
Not making sure the fasteners are compatible – Using the wrong type of fastener can and will lead to the SIRP coming loose and/or a negative reaction between incompatible metal types in the fastener and roof panel. It's crucial to make sure you've got the right type of fastener and that you don't simply grab the first thing that looks good.
Failing to specify a colour – In some cases the solar heat absorbed by the outer layer on the SIRP may be significant enough – and the temperature difference between it and the inner layer great enough – that stress can come to bear on the panel as a whole. The situation can be exacerbated by using the wrong colour on the outer layer; one that absorbs heat rather than reflecting it. Make sure you specify the colour early on in the process.
Ignoring the manufacturer's joinery guidelines – In order for structurally insulated roof panels to do their job as an effective air and water barrier as well as insulator the quality of the joinery is critical. Some manufacturers use proprietary joinery systems that can be quite detailed. Ignoring the manufacturer's joinery guidelines and purchasing any old sealant or gaskets for instance will likely result in joint failure and worse.
Failing to account for expansion/contraction – The nature of their construction means SIRPs can be more susceptible to expansion and contraction than other construction materials like masonry or wood. This movement must be accounted for in the overall design and will influence the size of the panels and the joints between them. Failure to do so could again lead to failure of the panel system as a whole.
Buying SIRPs with an insufficient R-value – Since SIRPs can be up to 90% more airtight than conventional roofing techniques and materials their ability to insulate is sometimes overestimated and customers will wind up with panels with an inadequate R-value. Make sure you consult closely with the manufacturer to determine the proper R-value for your panels before purchasing.
Structurally insulated roof panels are revolutionizing the construction trades in Canada. But the fact that they seem so straightforward and simple often masks important considerations that should not be taken for granted or forgotten when purchasing SIRPs for your home or business. Talk to the insulated roof panel experts at Eco-Insulated Panel Manufacturing to learn more about structurally insulated roof panels in Canada.