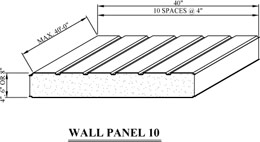 Nowadays people are doing all they can in order to conserve energy – whether it's for the planet or for the wallet. Advances have been made all over the home to try and improve insulation, and structurally insulated roof panels in Canada have proven to be popular. Here's a guide on what they are, and how they compare to regular roof panels.
What are Structurally Insulated Roof Panels in Canada?
Structurally insulated panels, or SIPs, are a form of sandwich panel that has become more and more popular in construction due to their effectiveness compared to regular roof panels. Resembling an ice cream sandwich, the two outside pieces are usually some sort of rigid wooden board whereas the "ice cream" filling is usually an effective, lightweight insulator like Styrofoam, polystyrene or another similar material.
Benefits of Structurally Insulated Roof Panels in Canada
These kinds of roof panels come with a range of benefits.
Perhaps the greatest benefit is just how effective they are when it comes to energy efficiency. Given that they are layered, there's greater heat retention than conventional wooden panels. Both the outer and inner parts of structurally insulated roof panels are effective at retaining heat, and so when they are used together it well outperforms conventional roof panels in this regard.
Not only does that help to keep your property warmer, it can help to save you money too. By minimizing heat loss through the roof, this means you won't have to run your heating as long or as high, saving on your fuel costs and eventually paying for themselves.
A further way that they can save money is in labour costs. SIPs are lighter than regular roof panels and easier to install, meaning fewer men are needed to install them and that the job should be completed much quicker than you might have expected.
Not only that, but they come with a high life expectancy of around 50 years. Given that they are airtight, this reduces the possibility of mold occurring on your roof or the elements causing problems such as nail pops or twisting and warping.
Drawbacks of Structurally Insulated Roof Panels in Canada
Whilst they are a quality product, they do come with some drawbacks that you should be aware of.
Whilst it may be rare, it's not unheard of for rodents and insects to bore through the lightweight centre of SIPs, causing potential problems, thought applying insecticides and keeping humidity levels low can help prevent this.
Performance during fires is also a concern, fearing they may be less effective than regular roof panels. However, covering them with a substance like gypsum can help them perform better.
They're more expensive than regular panels.
Cost vs. Quality
When it comes to deciding on roof panels for your property, it comes down to cost vs quality. Whilst regular roof panels may be cheaper, SIPs perform better and have more benefits which helps justify their cost – but in the end, that choice is yours to make