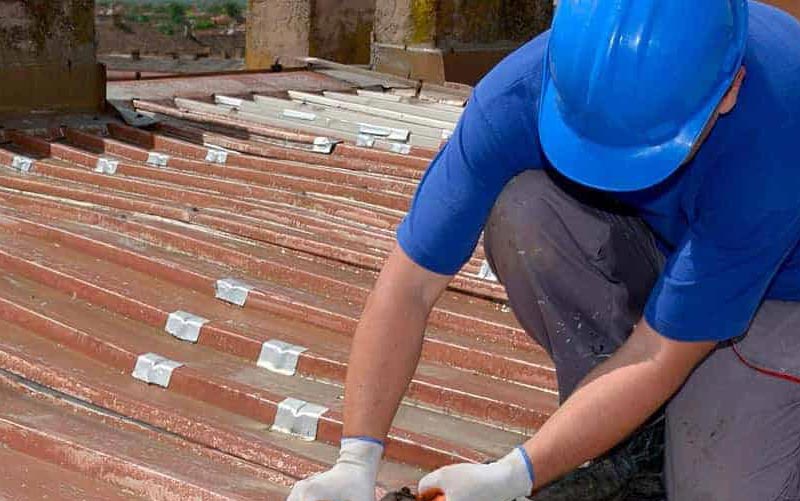 When they are properly installed, metal roofs boast the longest lifespan of any roofing material on the market. While most roofs may last up to 30 years, metal roofs can last up to 100! But longevity is not to be mistaken with indestructibility. Harsh weather conditions, much like the kind we experience in Canada, can take its toll on even the strongest roof. So what do you do when that toll results in one, or several, holes on your metal roof? Let's talk about how holes can be repaired in metal roofing systems!
Can Holes Be Repaired In Metal Roofing Systems?
The short answer – yes! The longer answer is that how successful that repair is ultimately depends on a couple factors.
The material used to patch the hole should be as close to the original material as possible to ensure similar expansion and contraction rates. This will help prevent stressing the patch area.
The weather the day of can also result in contraction and expansion of the patch area. This can result in splitting, cracking, and eventually, failure of the repair.
How To Repair Holes In Metal Roofs
Whether you're a DIYer or simply interested in the process, this is how we would recommend repairing a hole in your metal roof.
Clean The Repair Area. Before beginning any metal roofing repair project, the repair area must be thoroughly cleaned, including the surface and the surrounding areas. If the hole in your roof was caused by rust, the, rust must be removed entirely. Alternatively, fallen branches or trees may be the cause of the damage. No matter how the damage occurred, it must be cleaned off entirely before repair can occur.
Scuff The Metal. Once the metal is clean, a wire brush should be used to scuff the repair area. These scuffs will help the sealant bond fully to the metal of the repair area.
Measure Repair Area & Cut Material. After measuring the repair area, cut the panel at least 2 inches past the edges of the repair area. Once it has been cut and fit, round the edges to prevent sharp corners from catching snow or ice.
Install The Patch For Repair. Using a color-matched urethane sealant, apply the metal patch to the area that needs repair. Don't be shy! You want to avoid gaps around the patch. Then, firmly press the patch over the damaged areas until the sealant squeezes from the edges of the patch.
Fully Secure The Patch. Once the patch has been put in place, use pan-head sheet metal screws to fully secure the patch to the roof. Lastly, use a putty knife to remove any sealant coming from the edge of the patch. Note, it typically takes a week for the sealant to cure entirely.
Need to repair your metal roof? Contact us at info@ecoinsulatedpanels.com or 1.855.838.9393 to see if we have a panel that's right for you.